Wang Xinwei, Deputy Secretary of Zhengzhou Municipal Party Committee and Mayor, visited Anneke for investigation
On the afternoon of May 6, 2019, Wang Xinwei, deputy secretary of the Zhengzhou Municipal CPC Committee and mayor, and his entourage went to Xinmi New area to investigate and visit Zhengzhou Anneke Industrial Co., Ltd. to conduct an on-the-spot investigation on the development of Xinmi refractory industry and our company. Li Fuchao, chairman of the company, and Lu Yingjun, secretary of the party committee, accompanied the visit.
Mayor Wang Xinwei and his party came to Anneke's top-burning hot blast stove technology research and development center and visited the company's technology research and development testing center and the company's exhibition hall. Chairman Li Fuchao of the company reported to Mayor Wang Xinwei in detail the company's strategic pace of keeping up with the country's "the belt and road initiative". The 4th generation top-burning hot blast stove (Anneke type) technology with independent intellectual property rights has five leading advantages of low investment, low emission, low operation, high wind temperature and long life, and has successfully entered countries along the "the belt and road initiative" such as Vietnam, India, Serbia and Russia, details of breaking the monopoly of foreign companies on hot-blast stove technology. As well as Anneke's good start to the economic development of Zhengzhou in the first quarter, sales revenue, output value and tax payment all increased by more than 80% year-on-year.
During the visit, Mayor Wang fully affirmed Anneke's achievements in focusing on technological innovation in the field of hot blast stoves, keeping up with the pace of the country's One Belt One Road strategy and actively expanding the international market, and encouraged Anneke to focus on brand building and expand domestic and foreign markets., Strive to make enterprises bigger and stronger, and at the same time make full use of R & D platforms such as academician workstations, strengthen technological innovation, and actively develop new materials and new products in related fields to promote enterprise transformation and upgrading. When Chairman Li Fuchao talked about the environmental protection governance and ultra-low emission transformation of enterprises, Mayor Wang stressed that enterprises must put environmental protection work in the first place, and encouraged Annike, as the benchmark of the industry, to be at the forefront of environmental protection work, to set an example, to actively fulfill social responsibilities, and to fight the tough battle of environmental protection governance. Chairman Li Fuchao said that he will bear in mind Mayor Wang's entrustment, conscientiously do a good job in environmental protection, strengthen technological innovation, speed up transformation and upgrading, make enterprises bigger and stronger, live up to the ardent expectations of city leaders, and make greater contributions to the economic development of the Central Plains.
Li FuchaoChairmanMayor Wang Xinwei reports on the company's superior products
Li FuchaoChairman of the Board of Directors reported to Mayor Wang Xinwei the Company's 4th Generation Top-burning Hot Blast Stove (Anneke) Core Technology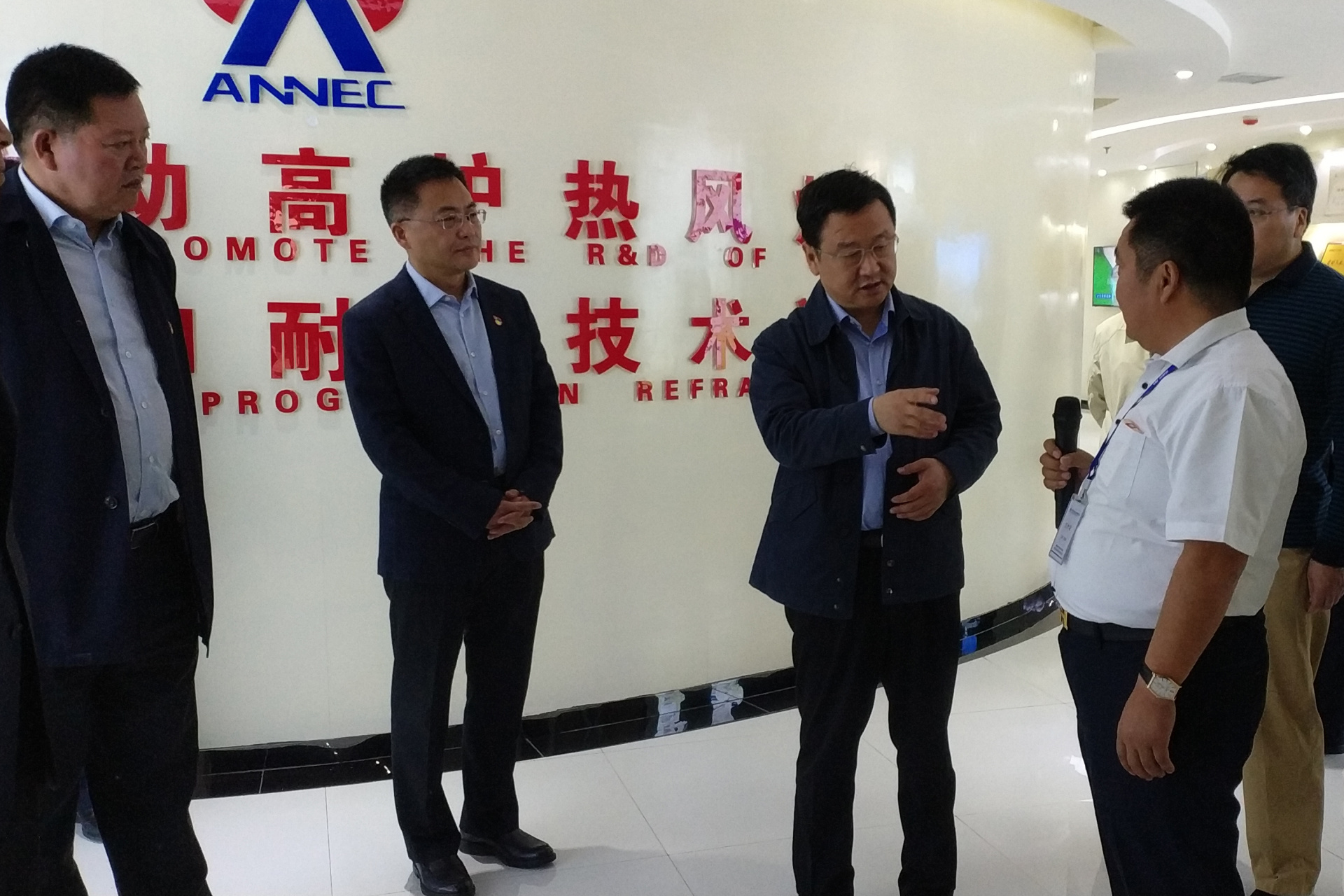 Mayor Wang Xinwei has in-depth talks on environmental protection issues
Chairman Li Fuchao and Mayor Wang Xinwei constantly exchange views on environmental protection transformation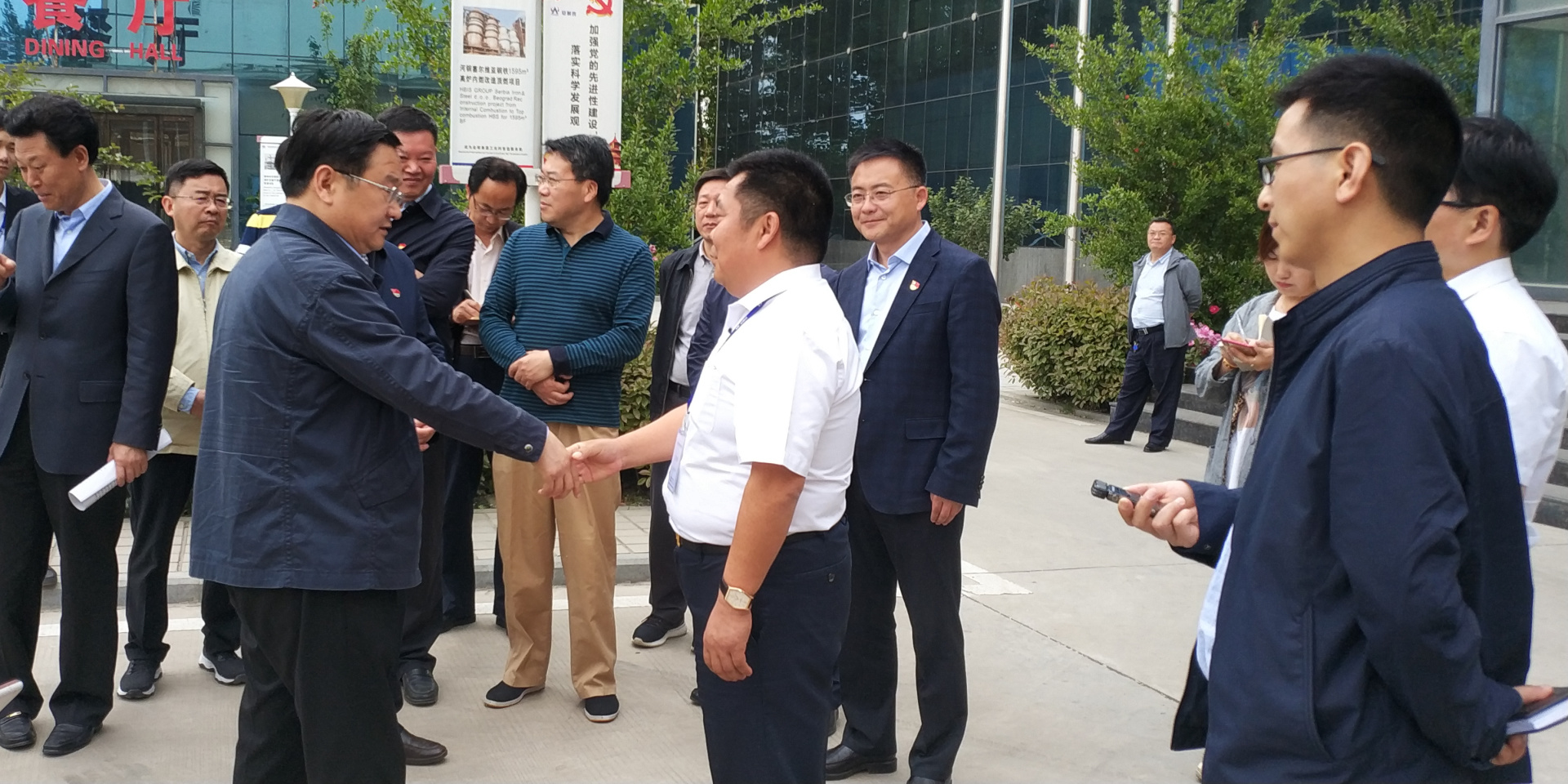 Mayor Wang Xinwei places ardent expectations on Anneke