Annike participated in the forum on the collaborative development of ironmaking equipment and technology, and continued to help the development of hydrogen-rich low-carbon ironmaking technology.
From June 12 to 14, 2023, the 2023 National Forum on the coordinated development of ironmaking equipment and technology and the working meeting of China ironmaking expert committee, jointly organized by Xinjiang Uygur Autonomous Region Metal Society, ironmaking exchange magazine and China ironmaking network, was solemnly held in Urumqi. The theme of this conference is "technological innovation, double-carbon development, intelligent manufacturing, quality improvement and efficiency improvement". The focus is on the hot spots, key points, solutions to doubtful problems, new equipment, new processes and new technologies of Bayi Steel COREX furnace and HyCROF blast furnace and the industry. Wang Panfeng, general manager of Zhengzhou Annike Hot Blast Stove Engineering Technology Co., Ltd., made a report on the technology and application of top-fired gas heating furnace (hot blast stove) supporting Annike hydrogen-rich carbon cycle oxygen blast furnace at the meeting.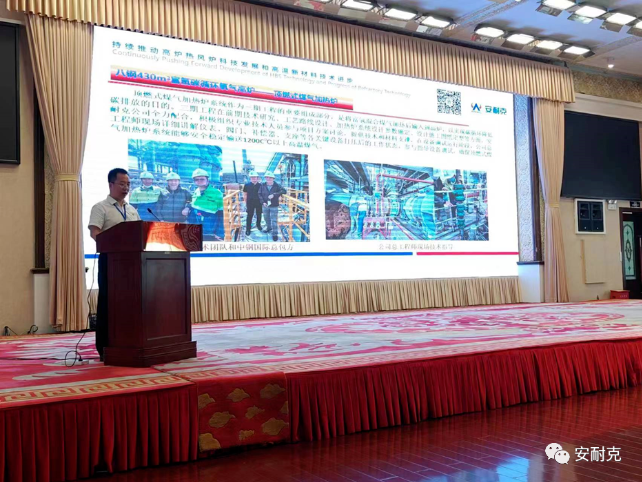 General Manager of Zhengzhou Hot Blast Stove Company Wang Panfeng made a report on the conference
In order to achieve the strategic goal of carbon neutrality in China's iron and steel industry, Baowu Group's Bayang Company and Sinosteel International have jointly established a hydrogen-rich carbon cycle oxygen blast furnace (HyCROF) industrial-grade low-carbon metallurgical test platform based on 430m ³ blast furnace. Among them, the gas heating furnace (hot blast stove) burner is jointly designed and developed by Anneke and Sinosteel International. After undertaking this task, Annike immediately carried out burner performance experiments and supporting refractory tests under different working conditions relying on its own technology research and development platform. In order to achieve the technical goals of heating the mixed gas to 1200 ℃-1250 ℃, low nitrogen and low carbon emissions, and safe and long life, Anneke has tackled key topics such as gas safety heating technology for multi-point purging of burners, low nitrogen and low carbon burner technology, corrosion control technology for refractory materials by carbon evolution reaction, and low iron and low porosity refractory technology based on the existing hot blast stove, successfully completed the development and application of 430m ³ HyCROF blast furnace (hot blast stove) burner and pipeline system related technologies and products. After the blast furnace was put into operation, it successfully achieved the phased target of reducing fossil fuel consumption by 30% and carbon emission reduction by 21%.
The research results obtained by 430m ³ HyCROF blast furnace will soon be applied to the commercial demonstration project of 2500m ³ blast furnace HyCROF in Bayi Steel. Anneke once again undertook the burner design and refractory supply tasks of the project. At present, the burner design of the project has been verified by mathematical model and cold simulation test, and all refractory materials are in orderly production and will be delivered soon.
Low-carbon ironmaking has become a new goal of the steel industry, and the HyCROF process has opened up the direction for the low-carbon development of the high-furnace long-flow ironmaking process and achieved gratifying results. As a pioneer in leading the low-carbon development of the hot blast stove industry, Annike will continue to promote the transformation and optimization of the traditional hot blast stove process with the goal of energy saving and carbon reduction. Combined with the development trend of low carbonization of blast furnace ironmaking, Annike will practice the core corporate culture of customer satisfaction with practical actions. With green, low-carbon, environmentally friendly and efficient top-burning hot blast stove technology and materials, Annike will help Bayi Steel 2500m blast furnace commercial demonstration project to be successfully ignited and put into operation!