Green Development and Reputation-Annike Won the Title of "Green Factory" in Henan Province in 2023
Recently, the Henan Provincial Department of Industry and Information Technology officially announced the "2023 Provincial Green Manufacturing List", announcing 109 provincial green factories, 9 green industrial parks, 22 green supply chain management enterprises, and 25 green design product models. The list aims to create an advanced model of green manufacturing enterprises and help all walks of life to achieve the goal of "double carbon" as soon as possible. Zhengzhou Annike Industrial Co., Ltd. won the honorary title of "Green Factory" in Henan Province in 2023.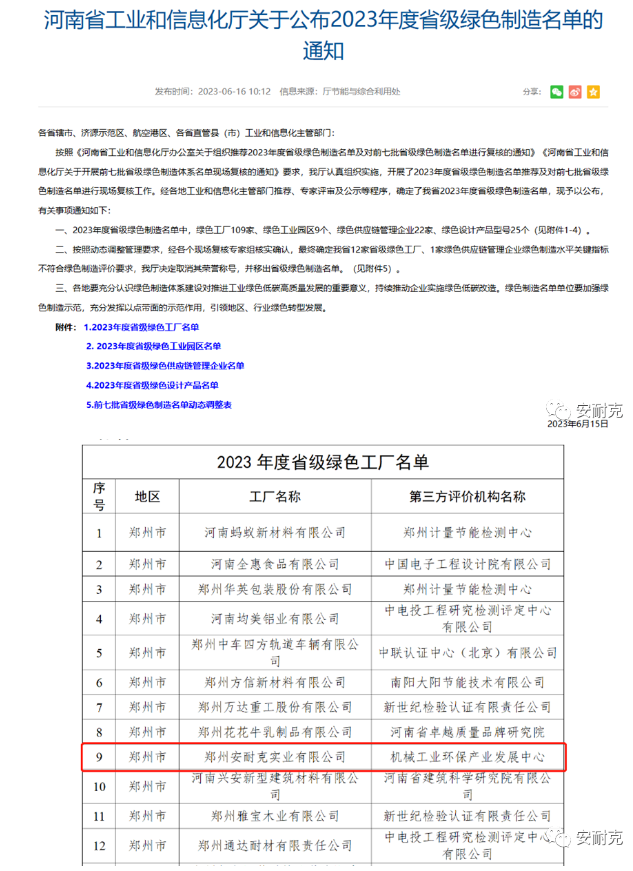 Zhengzhou Annike Industrial Co., Ltd. has always adhered to the concept of green development, focusing on key links such as intensive land use, harmless raw materials, intelligent production, clean process, waste resource utilization, and low energy carbonization to carry out green transformation. The management system, energy and resource investment, plant greening and other aspects have been fruitful. The selection of the "Green Factory" in Henan Province is an affirmation of Annike's long-term efforts, it also provides a considerable impetus for Annike's high-quality sustainable development.
Under the background of "double carbon" economy, green and low carbon has become the main theme of the development of the times. As an advocate and practitioner of the greening of high-temperature new materials, Annike will take the opportunity of being shortlisted as a "green factory" in Henan Province. actively play the exemplary and leading role of green factories, integrate the concept of sustainable development into the whole product life cycle through in-depth development of clean production, energy conservation and emission reduction, and other work, and accelerate the innovation of green science and technology, we are committed to bringing high-quality innovative technologies and green products to customers, and contributing to the green development of high-temperature materials in China and the world.