India IFGL Company Team Visits Annike
As a group company with nine branches in the world, the company occupies an important position in India and the global steel industry. Chairman Li Fuchao, Chief Engineer Zhang Daoyun, Deputy General Manager Yang Jinpo of Hot Blast Stove Company, and Deputy Minister Yang Yange of Technology Marketing Department accompanied the customers, visited Annike Fuliang, Fuhua Branch, Headquarters Research and Development Center and Exhibition Hall one after another, and held discussions in the conference room.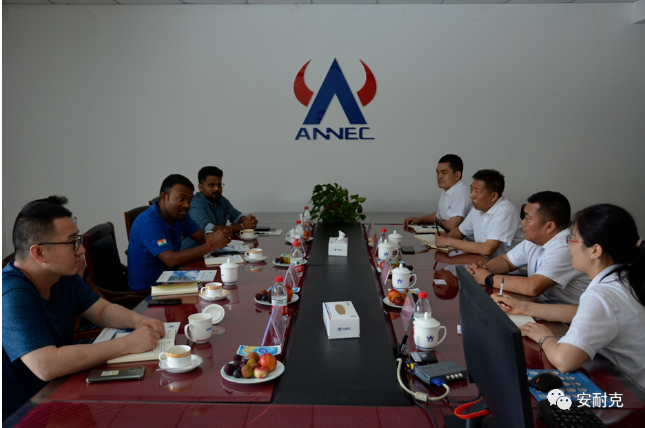 During the visit, Yang Yange introduced in detail the product quality traceability of "four acceptance and 15 inspection points" adopted by Anneke in the links of raw material preparation, batching, molding, sintering, product selection and packaging, and whole-process inspection, so as to grasp the product quality from the source and truly achieve customer satisfaction. In the conference room, the two sides discussed the current situation of the iron and steel industry in China and India, and conducted in-depth exchanges on green, energy-saving, longevity kiln refractory configuration and refractory intelligent manufacturing. The guests highly agreed with Anneke's technological innovation and development concept, saying that Anneke's professional hot blast furnace technology and complete product structure, research and development and application of high-temperature new materials and good industry development prospects attracted their visit. It is also hoped that through this exchange, the two sides can rely on Annike's complete product structure and R & D level to jointly dig deep into the fields of steel, non-ferrous smelting and hydrogen metallurgy in the Indian market. The Indian guests expressed their best wishes to the Luoyang Annike Industrial Park under construction, and hoped that the two sides would join forces in the near future to jointly contribute to global low-carbon metallurgy.
The chairman of the company said that Anneke actively participates in the "One Belt One Road" initiative proposed by the Chinese government and is willing to provide new driving forces for global economic growth and create new opportunities for the economic and industrial development of countries around the world. As a pioneer in leading the energy-saving, low-carbon and green development of the hot blast stove industry, Anneke will adhere to the core corporate culture of "customer satisfaction", the road of innovation will never stop, and will continue to promote the technological development of blast furnace hot blast stove and the technological progress of high-temperature new materials. Work hard, continue to use technological innovation to serve the steel industry, and use green, low-carbon, low-nitrogen, environmentally friendly and efficient blast furnace hot blast stove technology to help the green development of domestic steel enterprises. At the same time, we also hope to strengthen cooperation with India IFGL and other world-renowned enterprises, jointly expand new fields, new processes and new products of high-temperature materials, and jointly promote the intelligent, green and sustainable development of the global high-temperature industry.