Annike Helps Baowu Bayi Steel's Hydrogen-rich Carbon Cycle Blast Furnace Phase III Project to Smooth Opening
On July 6, 2022, the global steel metallurgy green low-carbon phase III test and application project-hydrogen-rich carbon cycle blast furnace shared test platform successfully ignited and started. The project is contracted by Sinosteel International. With its outstanding achievements and innovative technologies in the field of top-burning hot blast stoves, and its technical advantages such as low nitrogen, low carbon, energy-saving burners and low iron, low porosity pipeline refractories, Annike Company provides new gas heating technology and new refractory support for the project's gas heating furnace system, helping Baowu Bayi Steel to build the third phase of hydrogen-rich carbon cycle blast furnace.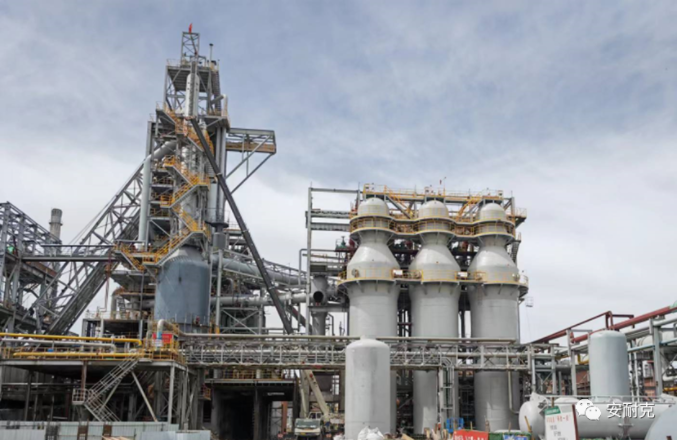 Hydrogen-rich carbon cycle blast furnace shared test platform project site
After the 1. phase II test carried out in the early stage, the test platform not only realizes the recycling of blast furnace gas and oxygen-rich and hydrogen-rich smelting, but also achieves the phased goal of 15% carbon saving. The third phase of the project will have the process technology capability of reducing carbon by more than 30%.
As an important part of the third phase of the project, the top-fired gas heating furnace system is to heat the hydrogen-rich mixed gas and input it to the blast furnace to achieve the purpose of reducing carbon emissions by carbon cycle. The third phase of the project in the preliminary technical research, process route design, heating furnace system design parameters, design and construction drawings, etc., Anneke fully cooperate, the technical team actively participate in technical exchanges and program demonstration, to provide technical and material support. During the equipment commissioning phase, the chief designer of Anneke Company was invited to the site to explain in detail the technical requirements of various key equipment such as instruments, valves, compensators, supports, etc. after being suppressed, to guide the equipment commissioning, and to ensure that the top-burning gas heating furnace system can safely and stably deliver high-temperature gas.
On-site technical guidance of chief designer of ANEKE
The successful implementation of the hydrogen-rich carbon cycle blast furnace top-fired gas heating furnace system in Bayi Steel helps to save energy and reduce consumption in long-process ironmaking. As a pioneer in the low-carbon development of hot blast stoves, Annike will continue to promote the transformation and optimization of the traditional hot blast stove process with the goal of energy saving and carbon reduction, combined with the development trend of low-carbon blast furnace ironmaking, and practice customer satisfaction with practical actions. With green, low-carbon, environmentally friendly and efficient blast furnace hot blast furnace technology to help steel enterprises to achieve "carbon peak, carbon neutral", in order to become the world's first choice of high-temperature industry service providers-to move forward.