Baworth JSW Hot Blast Stove Refractive Material Passed Acceptance Successfully
Recently, at the invitation of Zhengzhou annike hot blast stove engineering technology co., ltd., Beijing baoworth technology co., ltd. appointed a representative to annike company to check and accept the refractory materials of JSW blast furnace supporting hot blast pipe. the appearance, physical and chemical properties of all products met the requirements of the technical agreement after inspection and testing and passed the acceptance smoothly.
Beijing Baoworth Technology Co., Ltd. is the China office of PAUL WURTH Company (hereinafter referred to as PW Company). PW Company will undertake the supply of JSW 5872m ³ blast furnace project in India.
This JSW blast furnace project adopts the single brick structure of "no intersecting line joint" as the supporting hot blast pipe refractory material. The production process of the product is complex and the construction period is short. Based on the long-term and good cooperation foundation between PW Company and Anneke, JSW Steel and Rashmi Steel in India adopt the core technology and refractory supply of Anneke hot blast stove burner, and Vietnam, Hesteel Serbia Steel, Malaysia Anyu and other foreign EPC projects have been successfully implemented, it is proved that Annike has been highly recognized by the international market. Therefore, Beijing Baoworth Technology Co., Ltd. commissioned Annike to produce this batch of refractory materials. Anneke carefully organized production, lean quality control, live up to high expectations, within the term of the contract, all batches of single brick, combination of quality, according to the amount of completion, product compressive strength, creep rate, porosity, soft temperature and other physical and chemical properties after Beijing Baoworth Technology Co., Ltd. representative sampling test, are in line with the requirements of the agreement.
The acceptance was successfully passed, the customer representative signed and confirmed, and the packing, port collection, booking and other work began in an orderly manner. Annike will serve customers wholeheartedly, continue to promote the development of blast furnace hot blast stove technology and refractory technology progress, and make unremitting efforts to become the preferred service provider of the global high-temperature industry!
On-site inspection of the size of the air outlet combination brick by the customer representative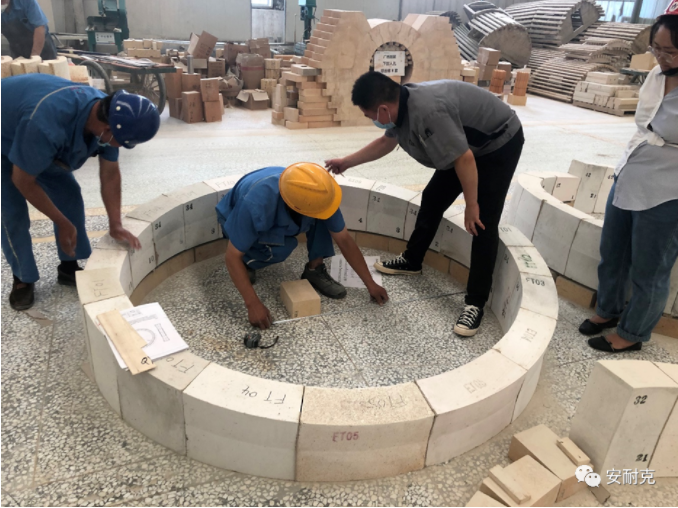 Acceptance of enclosure composite brick