Chairman Li Fuchao was selected into the training list of leading entrepreneurs in Zhengzhou City.
On June 22, 2022, Zhengzhou Municipal Bureau of Industry and Information Technology announced the "2021 Zhengzhou Outstanding Entrepreneur Pilot Program Training Directory". Li Fuchao, chairman of Zhengzhou Anneke Industrial Co., Ltd., was successfully selected into the 2021 Zhengzhou Outstanding Entrepreneur Pilot Program Leading Entrepreneur Training Directory.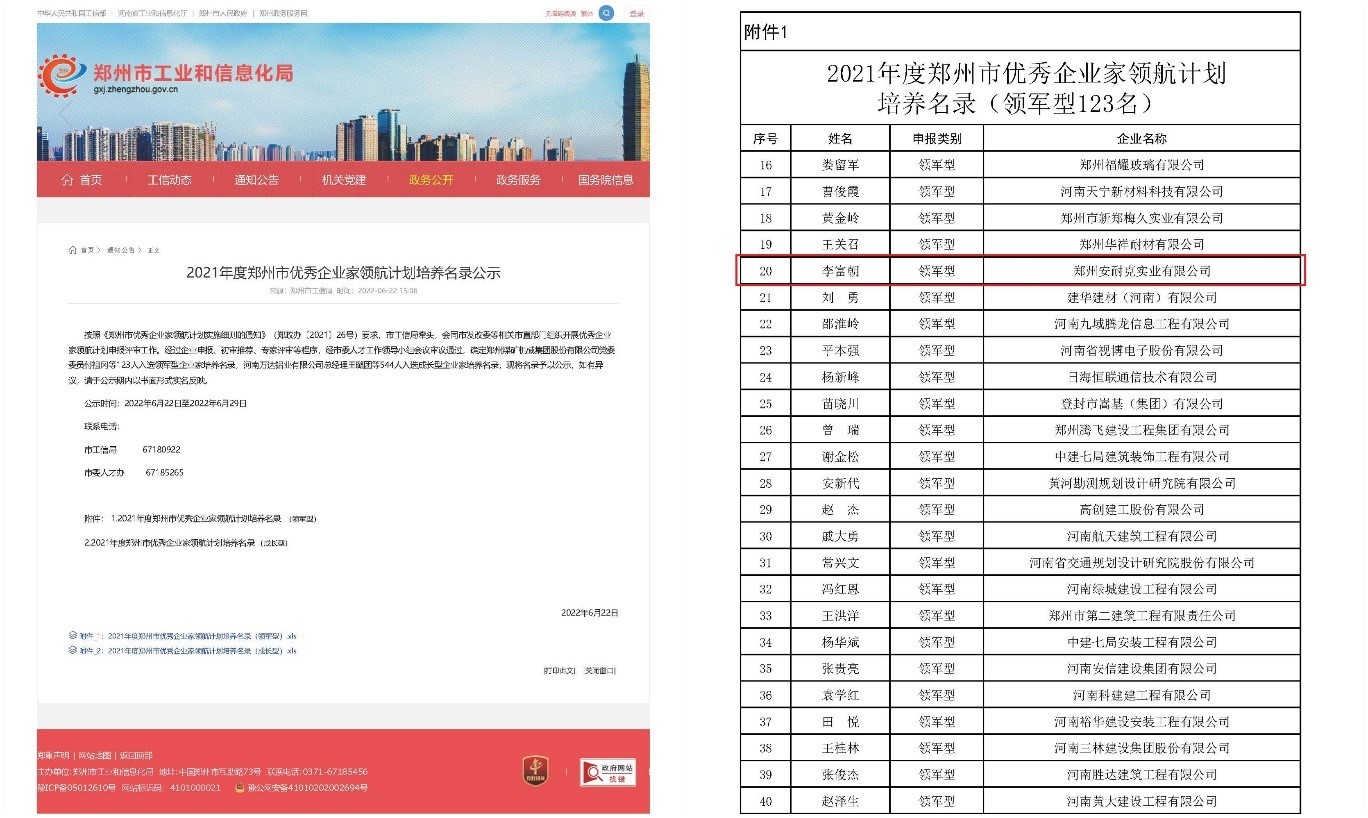 Since Anneke was founded, Chairman Li Fuchao has always taken it as his duty to promote the development of blast furnace hot blast stove technology and the progress of refractory technology. He has led Zhengzhou Anneke Industrial Co., Ltd. to deeply cultivate the field of blast furnace hot blast stove and established 11 multi-disciplinary research and development teams of metallurgy, materials, thermal engineering and structure, headed by academician Zhou Guozhi of Chinese Academy of Sciences, professor Jiang Fengshan, inventor of rotary cutting top combustion hot blast stove, and doctor Zhang Daoyun, refractory industry expert, successfully developed the cone-column rotary cutting top-burning hot blast stove, broke through the technical barriers in the field of foreign hot blast stove, has completely independent intellectual property rights, and has successively obtained patents in Russia, Japan, Ukraine, Indonesia and other countries. Relying on the technical advantages of high air temperature, long service life and low energy consumption of cone-column rotary cutting top-burning hot blast stove, the company has cooperated with leading domestic design institutes such as China Metallurgical Jingcheng and China Metallurgical Sadie respectively to successfully apply more than 3000 hot blast stoves configured for more than 1000 large and medium-sized blast furnaces in China and 450m to 5872m blast furnaces in countries such as Vietnam and Hafa Steel, Serbia Steel, Russia Steel, Steel, Steel, Russia Steel, MMK Steel and Steel, and Steel, help the global iron and steel enterprises energy-saving high-yield, low nitrogen and low carbon green development!
On June 18, Luoyang Annike High Temperature New Material Industrial Park laid the foundation and started. Annike's second venture has embarked on a new journey. The construction of the industrial park adheres to technological innovation, scientific and technological research and development, and achievement trading. Intelligent manufacturing, energy saving and carbon reduction, recycling; With the aim of reinforcing the chain and strengthening the chain and green development, supported by 5G Internet of Things technology, we will build a metallurgical technology production and financing center, a hot blast furnace engineering technology center, a high-temperature new material research and development center and a national refractory testing center for steel. Based on equipment automation, digitization, intelligence, and high efficiency, 20 high-end intelligent production lines will be built, with an annual output of 400000 tons of various high-temperature new materials. Photovoltaic power generation is laid on the roof, rainwater is comprehensively collected and recycled, the production line adopts the most advanced environmental protection measures in China at present, the whole process is organized and discharged, and zero discharge is realized. Centralized construction of central intelligent control center, intelligent production control center, energy consumption management center and environmental protection monitoring center realizes circular energy saving, green environmental protection, intelligent and efficient development. The industrial park will lead the technological progress of high-temperature industry with first-class talents, first-class technology, first-class equipment, first-class management and first-class products, and build a benchmark enterprise of green intelligent manufacturing of high-temperature new materials in China and even the world.
Looking forward to the future, we have a long way to go. In the face of an increasingly competitive market environment, hope and difficulties are intertwined, opportunities and challenges coexist. I believe that under the leadership of Chairman Li Fuchao, Annike people will seize opportunities, meet challenges, accelerate development, and create new achievements with a high-spirited attitude and brand-new style!