The company was rated as a service-oriented manufacturing demonstration enterprise in Henan Province in 2022
On May 31, 2022, the Henan Provincial Department of Industry and Information Technology announced the ''Notice on Printing and Distributing the 2022 Henan Province Service-oriented Manufacturing Demonstration List''. Zhengzhou Annike Industrial Co., Ltd. was assessed by the Henan Provincial Department of Industry and Information Technology as the 2022 Henan Province Service-oriented manufacturing demonstration enterprise.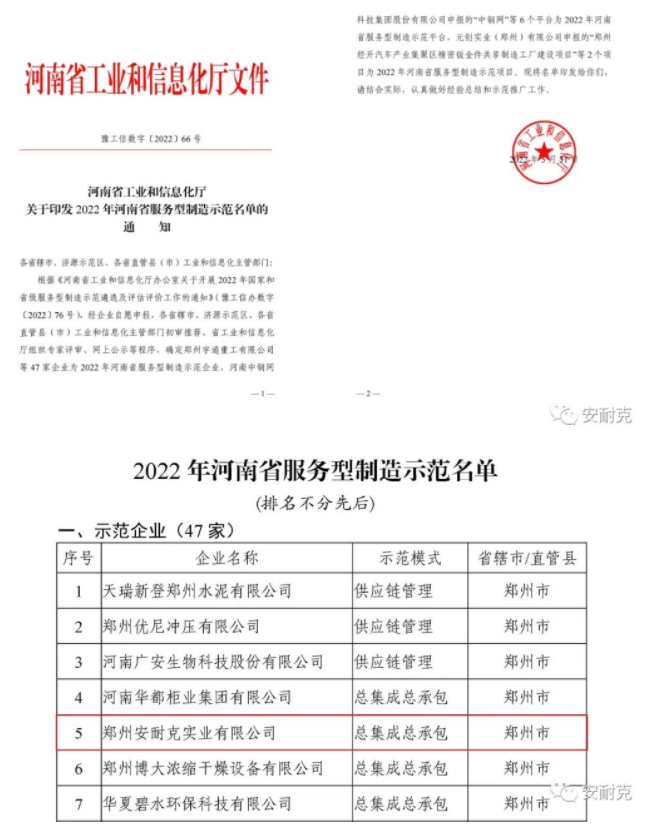 Over the years, the company has focused on the technical output of blast furnace hot blast stove, integrated supply of supporting products and EPC project general contracting, constantly strengthening technological innovation, actively expanding business areas, and constantly improving service levels. to provide customers with a full range, full process, full life cycle service system. The company actively promotes the construction of Internet platform and digital management planning, builds a hot blast stove application platform based on Internet of Things technology, carries out digital information management, and forms a complete digital information security management. Based on the key technology research and development of EPC general contracting mode, the service mode of design, manufacturing, transportation, installation and commissioning is carried out to promote the continuous improvement of service-oriented manufacturing capacity. Based on the service-oriented manufacturing model, it extends to both ends along the manufacturing value chain, leading to explore the potential needs of customers, providing customers with more value-added services, improving the overall satisfaction of customers, and achieving good market results.
Green development, intelligent manufacturing, scientific and technological innovation, global service. Anneke will continue to adhere to the core culture of "customer satisfaction, employee satisfaction and shareholder satisfaction", continue to promote the technological development of blast furnace hot blast stove and the progress of refractory technology, continuously improve the system service capability and intelligent manufacturing level, and make unremitting efforts to become the preferred service provider of global high temperature industry!