The company won the green development of advanced enterprises in Henan Province
Recently, the Department of Ecology and Environment of Henan Province issued the ''Notice on Deepening the Application of Green Development Evaluation Results in Key Industres'', which recognized and commended the enterprises that have made rapid progress in green development, achieved good results in transformation, and ranked high in green development in 2021. Awarded the title of "Advanced Enterprise for Green Development.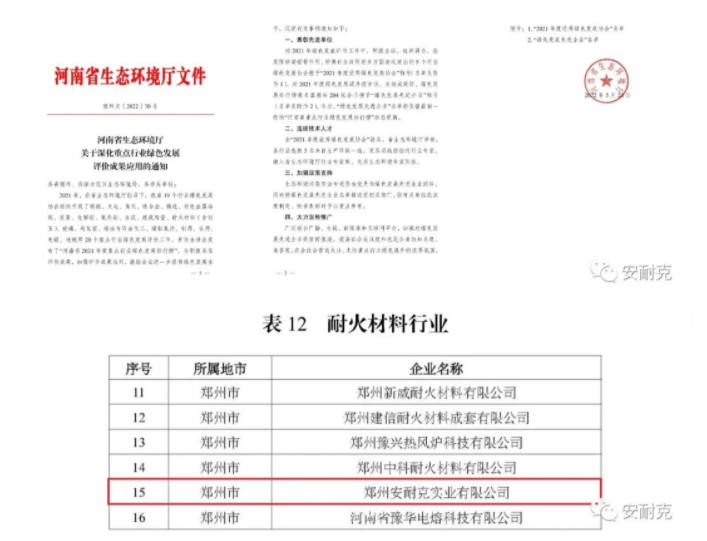 In recent years, Annike has actively implemented the requirements of the times of national and provincial environmental protection, energy conservation and green development, continuously increased the company's environmental protection transformation efforts, and successively invested nearly 10 million yuan in in-depth governance and environmental protection transformation. The company installs DCS environmental protection control system integrating desulfurization and denitrification, online detection and remote monitoring to control various organized and unorganized emissions including tunnel flue gas, timely monitoring and transmission of various governance data, and to deal with problems as soon as possible to ensure that the emission data reach the standard stably. The company reformed the raw material yard, built a fully enclosed raw material warehouse, and installed spray dust suppression devices and automatic induction lifting access control systems. The company has carried out reasonable planning and marking of the entire plant area, laid visiting channels, improved equipment management, established environmental protection management agencies, and improved various environmental protection management systems, and achieved good results.
Next, Anneke will continue to increase investment in environmental protection, strengthen the application of green energy-saving technology, accelerate the upgrading of equipment manufacturing and governance facilities, and make unremitting efforts to create a national-level green factory, promote the green development of the refractory industry, and energy-saving intelligent upgrading and transformation!