Leaders of China Refractory Industry Association Visited Zhengzhou Annike to Investigate and Guide Work
On the morning of March 11, Li Yongquan, vice president of the China Refractory Industry Association, and Chai Junlan, secretary general, accompanied by Jiao Chengju, vice president of xinmi municipal government, Li Quanyou, president of xinmi municipal Refractory Industry Association, and leaders of xinmi municipal government office and xinmi municipal science and technology bureau, visited our company for investigation and guidance. Chairman Li Fuchao and other leaders attended the research symposium and entered into in-depth exchanges with the leaders of the association.
During the investigation, the company leaders accompanied Vice President Li Yongquan and his party to visit Zhengzhou Annike Fuliang Branch and Hot Blast Stove Hot State Laboratory. The association leaders spoke highly of Annike's production management, product quality and hot blast stove technology development. At the research symposium, the company's executive vice president Zhang Daoyun introduced the company's development history, development status and future plans, and reported on the development status and development prospects of the hot blast stove industry, corporate talent strategy, and Luoyang company construction.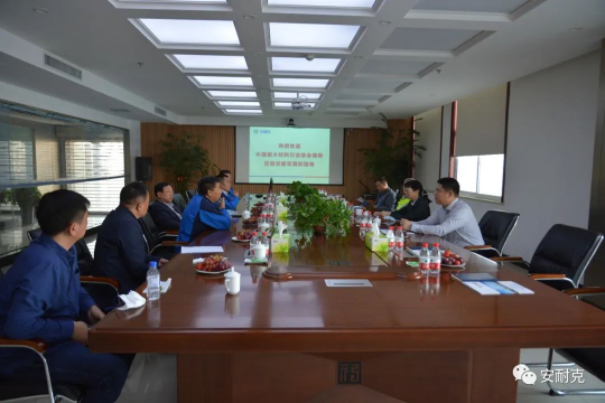 When talking about the relationship between the enterprise and the association, Chairman Li Fuchao highly appreciated the support and help provided by the China Refractory Industry Association for the development of the enterprise. He pointed out that Annike can not further maintain rapid and healthy development without the guidance and help of the association, and hopes that the association will continue to pay attention to the development of refractory materials for hot blast stoves and provide impetus for the development of enterprises.
Vice President Li Yongquan highly praised the advanced development concept put forward by Chairman Li Fuchao at the meeting. He pointed out that through this investigation and investigation, he learned about Anneke's gratifying achievements in development speed, enterprise scale and enterprise culture construction. He hoped that Anneke would continue to adhere to innovation and development, and continue to develop and grow with the goal of green and low-carbon, intelligent manufacturing and China's "carbon peak" before 2030 to help iron and steel enterprises reduce carbon emissions, and extensively participate in various exchange activities of the China Refractory Industry Association, pass on the company's advanced corporate culture and business philosophy, and make greater contributions to promoting local economic development and industry development.