Annike won the "enterprise credit evaluation AAA credit enterprise"
Recently, Zhengzhou Annike Industrial Co., Ltd. won the 2021 China Refractory Industry Association "Enterprise Credit Evaluation AAA Credit Enterprise" honor.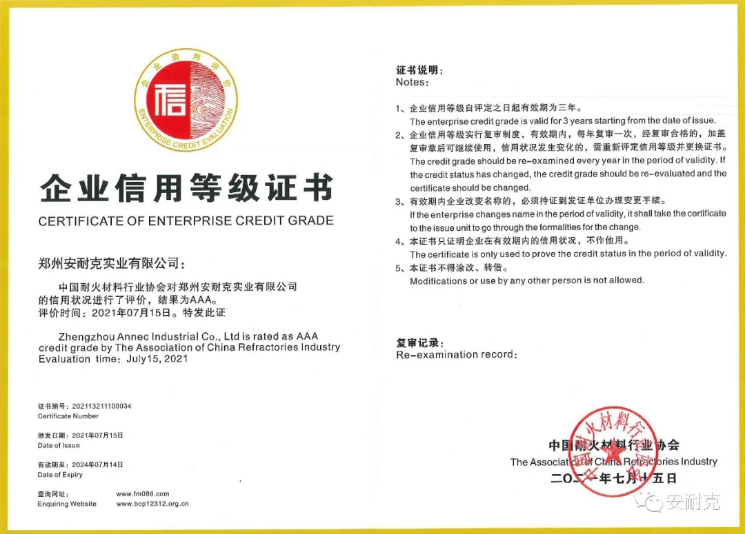 In response to the national strategy of "improving the level of social civilization", carrying forward the culture of integrity and promoting the construction of integrity, the China Refractory Industry Association actively organizes and carries out the work of enterprise credit evaluation, aiming to commend the enterprise's high credit, high technology and high quality development, and give full play to the achievements made in leading and exemplary roles.
At the beginning of its establishment, Anneke took the mission of continuously promoting the technological development of blast furnace hot blast stove and the progress of refractory technology as its mission, and made great achievements in the fields of blast furnace hot blast stove technology research and development, supporting refractory manufacturing and engineering general contracting. The company's independent intellectual property rights of Anneke cone column rotary cutting top-burning hot blast stove, closely around China's hot blast stove air temperature is low, low thermal efficiency, high gas consumption, high NOx emission value, burner nozzle dislocation, hot blast outlet collapse, lattice brick sinking, pipe deformation brick falling off hot blast stove caused by short service life, through systematic research and development, completely solve the hot blast stove due to the above problems caused by frequent blast furnace and high cost, breaking through the technical barriers of the international hot blast stove industry, integrating more than 100 patents and proprietary technologies of the company, and promoting the green development of the iron and steel industry with the technical advantages of "high air temperature, long life, low energy consumption, low emission and low investment. More than 2400 hot blast stove projects with 600m to 3200m blast furnaces at home and abroad have been newly built and renovated in EPC general contracting mode.
Integrity leads the development of enterprises, and integrity sets the industry benchmark. Enterprise credit evaluation AAA-grade credit enterprises are the affirmation of Annike's business policy of "taking integrity as the foundation, survival by quality, and development by science and technology", and it is also a spur to Annike's continuous progress in the future. Sensing the call of the times, Do not forget your initiative mind's Anneke will, as always, uphold the corporate mission of continuously promoting the technological development of blast furnace hot blast stove and the progress of refractory technology, and strive to become the preferred service provider for the global high temperature industry.