Annike Attends "2021 National Blast Furnace and Non-Blast Furnace Ironmaking Academic Annual Meeting"
From May 19 to 22, 2021, the "2021 National Blast Furnace · Non-Blast Furnace Ironmaking Academic Annual Conference" sponsored by the Ironmaking Branch of the Chinese Society of Metals and co-organized by Ningbo Iron and Steel Co., Ltd. was held in Ningbo, Zhejiang. Sun Yanjun, Section Chief of Zhengzhou Annike Marketing Company, and Li Guanpeng, Design Manager, attended the meeting.
Centering on the hot issues of the ironmaking industry, this meeting discussed the low-carbon, green, intelligent, high-efficiency, low-consumption and long-life ironmaking production technology and the latest scientific and technological achievements under the new situation, which greatly promoted the transformation and upgrading of ironmaking technology. At the meeting, experts and professors from Baowu Group, Shougang Group, Anshan Iron and Steel Group, Shagang Group, China Metallurgical Sadie, China Metallurgical South, Beijing University of Science and Technology, Wuhan University of Science and Technology and other key iron and steel enterprises and scientific research institutes also published a number of wonderful reports on green and low-carbon ironmaking production and technological development.
At this meeting, Anneke design manager Li Guanpeng made a report on "Analysis and Solution of Damage Causes of Hot Air Pipes of Top Burning Hot Blast Stove. Li Guanpeng made an in-depth analysis on the common problems of hot air outlet and hot air pipe of top-burning hot air stove, and pointed out that the key to solve the damage of hot air pipe of hot air stove is the optimization of refractory material and masonry structure of hot air pipe, the innovation of orifice combined brick structure, the layout of pipe system, the optimization of corrugated compensator lining structure and other systematic and comprehensive designs, share a mature solution to the hot air pipeline problem that Annike has patented technology and has been successfully applied for many years. Anneke's proprietary hot air pipe technology has been successfully applied in a steel plant in Shanxi Province for nearly 10 years, which is basically intact and can meet the service needs of two generations of blast furnace. At the same time, at this meeting, Anneke introduced to the participants the technical principle that low nitrogen combustion (NOx emission ≤ 50mg/m) can be completely realized through the cone-column rotary cutting top-burning hot blast stove with furnace type innovation, refractory structure and configuration optimization, meeting the requirements of green and energy-saving development.
On the basis of the technology of the rotary cutting top burning hot blast stove, the air gas mixing uniformity is better and the difference between the vault temperature and the air supply temperature is smaller, which completely solves the pain points such as low air temperature, low thermal efficiency, high gas consumption, high NOx emission value, dislocation of burner nozzle, collapse of hot blast outlet, sinking of lattice brick and short service life of hot blast stove caused by deformation of pipe system in China, with high air temperature, long life, low energy consumption, low emissions, low investment and other leading advantages, by customers and industry experts unanimously affirmed and praised.
In the future, Anke will continue to practice the concept of green development, continue to be committed to the optimization and improvement of top-burning hot blast furnace technology and supporting the research and development and production of refractory materials, to help the iron-making industry to achieve carbon peak, carbon neutral.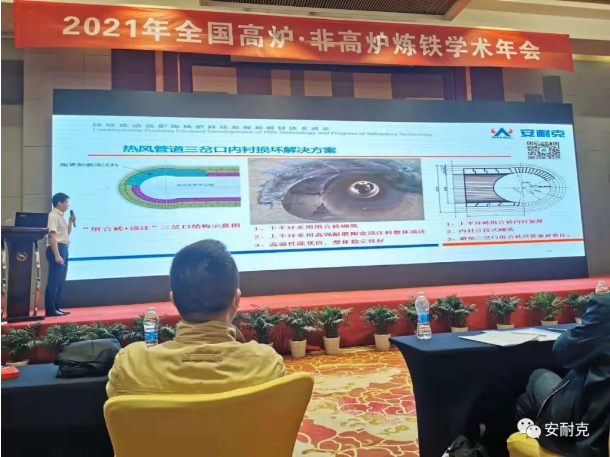 Li Guanpeng's Report (I)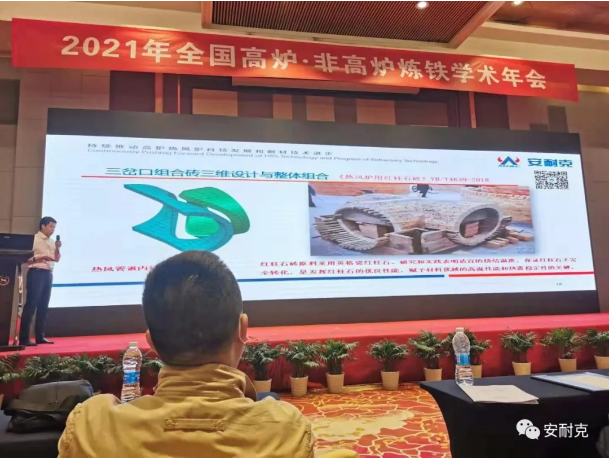 Li Guanpeng's Report (II)
Conference site